Sustainable Combined Heat and Power Generation
Our Holme Bioenergy site has recently upgraded to a new set
of sustainable Combined Heat and Power engines (CHP's) on our journey to net zero.
Our Holme site, due to location, has no mains electrical connection. Therefore, we used diesel power generation to meet the needs of our CHPs. But we knew this wasn't a sustainable long-term option for us, so we looked into more suitable solutions.
"Sustainably powering our processes and equipment has become more of a focus for the group as the business expands. We are operating in a rapidly changing industry. Working in the renewable energy sector means adapting what we do and becoming more conscious about the most sustainable ways we do things; we are always looking for new and innovative solutions to make the most out of our processes. As a group, we are committed to becoming as carbon neutral as possible, as quickly as practically possible. This means we have looked at the way we do things, our existing electrical connections, and power sources and have investigated more innovative ways of generating our own electricity but without increasing our carbon footprint". – Russ Baker, Chief Technical Officer
Edina is a distributed energy solutions provider for CHP and a system integrator for battery energy storage solutions. They proposed a microgrid hybrid solution co-locating reciprocating gas engines and battery energy storage controlled by an energy management system.
Edina supplied and installed two, duty and standby, hydrogen-ready Combined Heat and Power (CHP) plants rated at 1.2MW electrical output each. These can be fuelled by the Biogas we generate through Anaerobic Digestion. When compared to the previous diesel power generation, the transition to gas CHP saves the site an additional 2,500 tonnes CO2 per year.
Alongside this, Edina supplied and installed a 1MW 1-hour duration battery energy storage system (BESS). Which provides energy resilience and smooths out the site energy demand. And finally, as a tertiary supply, a standby diesel generator with the potential to be fuelled by green Hydrotreated Vegetable Oil (HVO) to provide an additional level of energy resilience. 
This upgrade has allowed us to become more sustainable in our journey to net zero. We are assessing which of our other sites will benefit from the change. We have already invested in another hybrid energy project with Edina, co-locating a 1MW 1-hour duration BESS and two 1MWe hydrogen-ready CHP plants at our R100 Energy site, located in Goole, Yorkshire.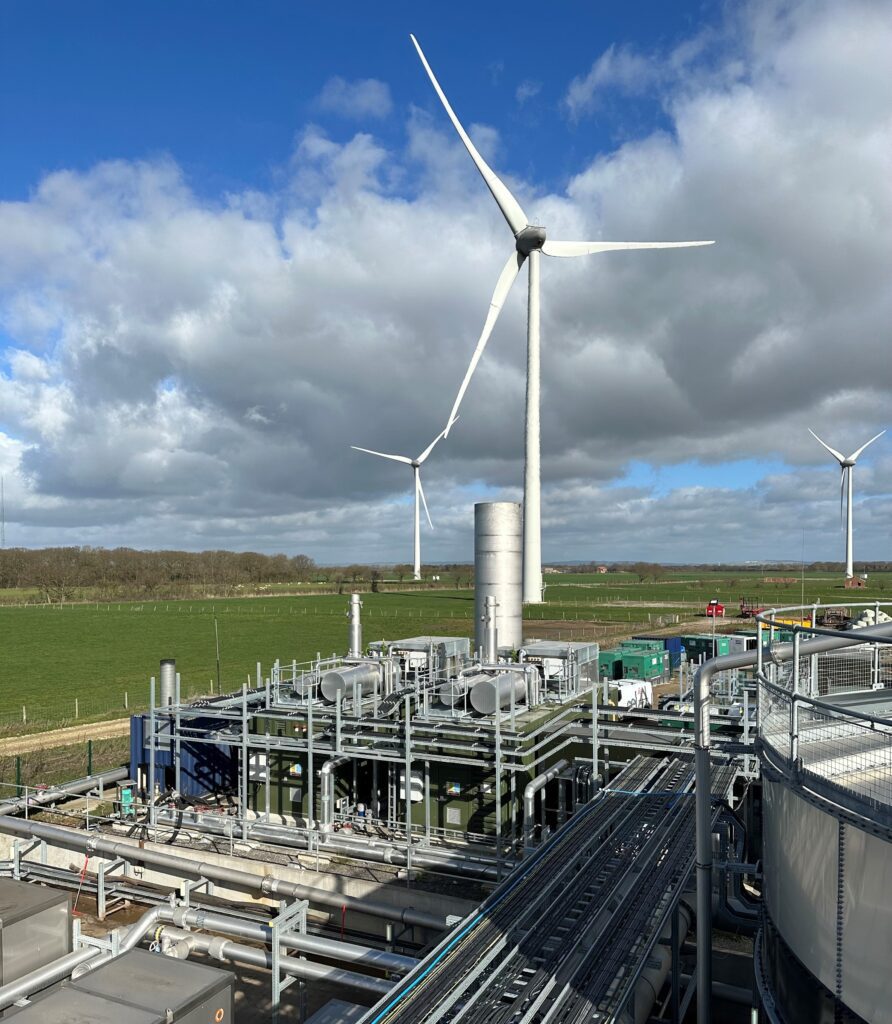 "The team of experts we have both within the group and those we chose to partner with allow us the flexibility to adapt in times of change and we're in a fortunate position that our business is agile enough to implement that change relatively quickly so we recognise the benefits quicker too"
Within BioteCH4 we offer services which can take the stress out of waste management, whether that be a waste collection service or the removal of oil-based waste. We will deal with all your recycling needs from either one of our AD plants across the UK, we like to think of ourselves as a one-stop shop for the recycling of a huge variety of food waste and our experienced team will make working with us easy.