Why Kids are Recycling Superheroes
Yup, we mean you! You might have learnt a bit about recycling in school already, in fact, we'd be amazed if you hadn't. No? You don't think you have.
Okay, think back to those art projects you used to do in reception, you know the ones with bottle caps and old cereal boxes. You'd make something wonderful, albeit abstract, from your brilliant imagination, you'd bring it home to your parents and they'd clap and coo and tell you how clever you were. Then your marvellous creation would mysteriously vanish a couple of weeks later…
Remember that? That was recycling. You were doing it before you even realised you were doing it. Taking something old, used and 'useless' and making it brand new again; whether you made it into a castle, or a phone or a wizards hat. You were recycling, and you did such a good job right from the start, guess what, you never stopped.
Do you have a bin especially for paper at home? Or one of those little compost bins that you pop your banana peels in? Did you have an environment week at school recently, or a vote for eco-warrior in your school council?
Recycling and being aware of the environment might not be something you actively think about, but it's around you every day; and for good reason! It's so important, now more than ever, to be kind to the planet we live on.
Scientists all over the world are working hard on big ideas to help the planet, it's a massive global effort that can seem a little daunting. But want to know three little things you can do, to make a big difference? Reduce. Reuse. Recycle.
We bet you've heard that phrase before; maybe there's even a laminated sign stuck to the waste bins in your school!
Reduce: Be mindful of the resources you use: turn off the tap when you're brushing your teeth, and switch off that light if you're not in the room.
Reuse: The water bottle you take to school is a great example of reusing something; you refill it every day instead of buying a new bottle of water from the shop.
Recycle: If something can't be reused, like a plastic bottle, it's time to pop it in the recycling bin.
We've come up with a few bright ideas for you to talk about with your teachers, whether you're a member of your school's Green Team (or maybe your school could really do with one!). Print out this blog post and take these bullet points into school with you. You can even use the other side of the paper to take notes (Reuse!)
The planet is yours just as much as it is the grownups, and so, little eco-warrior, this epic challenge is yours, too. Are you ready to make a difference?
Are there enough in your school? Take a look in the hallways, lunch hall and classrooms, are there recycling bins in all the places there should be? Or just black bins (where everything gets jumbled together)
Found some bins? Brilliant! Are they clearly labelled for different types of recyclables like paper, plastic, glass, and aluminium?
Nothing brings classes together like some healthy competition after all! Why not suggest a recycling competition or challenge among classes or houses, to see who can collect the most recyclables.
And once you've collected a competition-winning, challenge-crushing amount of recycling. What then? It's time to get creative! Encourage classes to create art projects using the recycled materials, maybe even one giant school art project! We love a crafty way to promote recycling, and displaying eco-artwork around the school would be a daily reminder no one could miss. Plus, if your art project is big enough and cool enough, maybe the local press might like to come and take some pictures; fame and glory are just a few bottle caps away!
Recycling Clubs or Green Teams:
Establish a recycling club or "green team" made up of other pupils who are curious about sustainability and want to learn more!
Maybe you already have an eco-warrior role in your school? Why not make them the leader of your group? Then together you can organise recycling initiatives and projects, things like that are more fun when you do it as a team!
Does your school have a composting program? If it already does this is a great way to learn more about composting and the benefits for the environment. Ask your teacher what the school does with food waste, have they ever heard of Anaerobic Digestion before? Try and remember that phrase if you want to really impress them.
Anaerobic digestion is how we (at BioteCH4, hi!) transform organic waste—especially food waste—into a sustainable biofuel and biofertiliser; it means we can grow more food, give back to the environment, and even fly planes!
More Ways to Recycle at School
Your school might already do this with school uniforms! Some schools even do it with cuddly toys! Host recycling drives where pupils (and teachers!) collect specific recyclables like used electronics, batteries, or clothing. You can then partner with local recycling facilities or organisations to properly dispose of everything you collect, a great way to learn more about the process too.
Guest Speakers and School Trips:
Nothing sparks excitement like someone really inspirational talking about their passion! Why not invite an environmental expert or recycling professional to speak at the school? At BioteCH4 we've hosted a tour or two of our AD plants for schools and Unis in the past, and it's something we'd love to do more of in the future! The more we can do to further educate, and make it fun of course, the better!
It's fun to incorporate recycling into broader environmental projects too. Why not ask about planting trees or creating wildlife habitats on school grounds. Even the simplest DIY bug hotel can make a world of difference to the ecosystem in your school. A wormery is also a really fun, interactive way to really see how these clever mini beasts can break down food waste.
A wormery is a tiered setup where earthworms can eat through your food waste. And in the process, they produce an extremely fertile "worm cast". You can use that and the liquid "worm tea" to feed plants. Crazy right?
Since wormeries are relatively small, and worms eat at a slow rate, they are fun class projects, all you need is some vegetable waste from the school kitchen.
Remember those little at home food waste bins we mentioned earlier? If you have one at home they're usually a small brown or grey plastic bin with a handle.
These are designated containers for collecting unused food like fruit and vegetable peels, coffee grounds, and eggshells. Remember, meat, dairy, and oily foods shouldn't be popped in the compost, because they can attract pests and nasties like flies and rats.
If you don't have a food waste bin, and many people don't, that's all down to the area you live in. Many councils don't recycle food waste, although the government is trying really hard to change this. 
If your local council doesn't provide a food waste bin, there are a couple of proactive things you can do: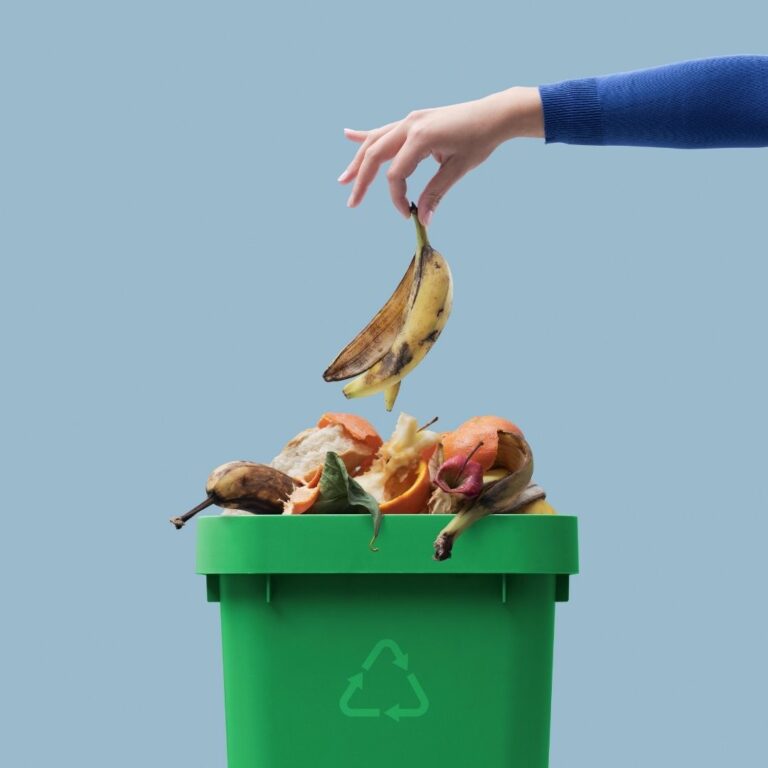 Did you know you can write letters to your local councillors (the people in charge of making decisions about the area you live), asking them to provide food waste collection. Ask your parents, or teacher, to look up the right address, and then it's time to use everything you've learnt about looking after the planet to convince them to make a change! Any great change starts with a single person who wants to make a difference.
Some nights we just can't finish our dinners, and that's totally fine! Why? Because you can still make use of that food the next day so it doesn't go to waste (and your parent needn't have *another* meal to worry about!) Equally, you might take a look in the fridge but think you don't have anything in to make a meal. That's when you can turn to sites such as Love Food Hate Waste who have plenty of delicious recipes to try; the best thing about these recipes is that they use ingredients you probably already have in the cupboard; or left over from last night! 
Getting Mum or Dad involved
Think back to when you last went food shopping and the shelves were stacked high, full of food. You might wonder how all of that food gets consumed. Well, unfortunately, it doesn't. Once the shops close for the day, they may be left with food which can't be sold the next day, and so they have no choice but to throw it away. 
Or do they?
Plenty of shops now offer that food for discounted prices through an array of apps designed to tackle food waste. If you don't need the food, there are places such as food banks that you can donate it to. These food banks help feed families in need, as well as saving perfectly yummy food from going to waste. If that sounds like another task for a recycling superhero you'd like to tackle, take a look at your nearest food bank. 
Saving the Planet Starts With You ​
When we said you were recycling superheroes we really meant it. You are the future of this lovely world we live in, so it's up to you to keep up the good work we're trying so hard to do. We know you can do it, and even better than us! If you or your teacher want to learn more about the work we do transforming food waste, our YouTube channel has a variety of short videos explaining our different processes.